Twitter OAuth: link your account
Dear members,
in this tutorial we will explain you how to
enable Twitter OAuth
to login your translation tool with your social account.
At the moment, Twitter OAuth is available only for login.
Registration is not possible with Twitter OAuth
---
Administrators: Enable Twitter OAuth for your team
#Twitter
#OAuth
is disabled by default. This means that you or another administrator will have to activate this module from your
dashboard
.
To do this, you need to go to your
Dashboard > Modules > Social connect

Once there, you just need to click on the toogle button of
Twitter OAuth
to enable it. After that, click on the
confirm button
to save your settings.
---
Members: How to link my Twitter profile
If your adminsitrators enabled
Twitter OAuth
, you just need to go to your
Toolbar > Edit your profile
Now, click on the
Twitter O auth
tab from the inner-menu.
Next step? Click on
Link your twitter account
to start:

You will see another page where you have to confirm your wish to link your profile: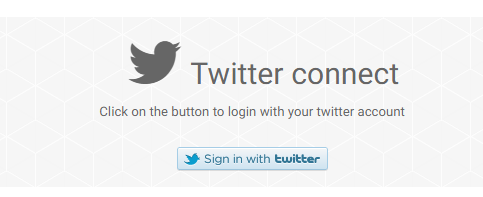 In the middle of the process you will be redirected back to our website and you will be asked of two informations:
Your Twitter ID which is 99% of the times already written
Your twitter username will also be displayed in the page as "Welcome USERNAME"


Your Password
This is your translationsCloud password not your twitter password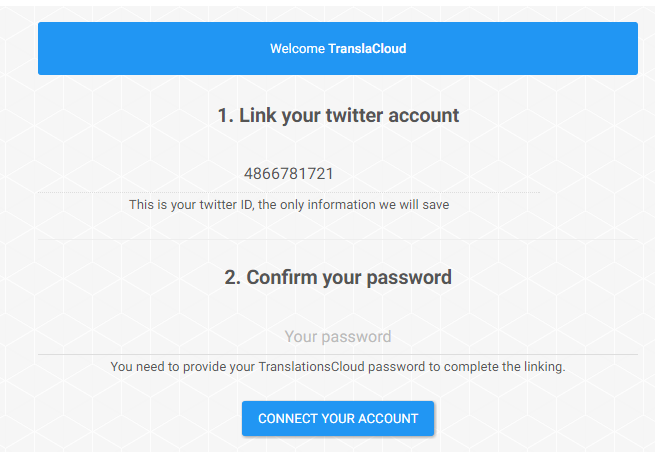 If everything was succesfull, you will see a page as the following:

you can now click on "Go back" and the next times you will be able to login with
Login with Twitter
button instead of normal login
Members: unlink my twitter profile
Nothing easier: just go to
edit your profile > Twitter connect
and click on
Unlink
:

---
For any information or problem, we are available in the support forum sections